At Advicenne we are committed to develop a robust, valuable, and sustainable portfolio of products that address the unmet needs in rare renal diseases.
Our lead product ADV7103 is currently approved for the treatment of distal renal tubular acidosis (dRTA) in Europe and entering the PIII development phase in the United States. This product is also under development for Cystinuria in both Europe and the United States.
ADV7103 is an investigational drug designed to treat distal renal tubular acidosis (dRTA) in both children and adults. dRTA can have either a genetic origin, also known as primary dRTA, or be acquired as a result of autoimmune disorders or other conditions. While the inherited form of dRTA is most common among infants and children, the acquired form is more prevalent in adults.
dRTA is characterized by impaired ability of the kidney to secrete protons (acids) into the urine, giving rise to an imbalance of blood pH that can lead to severe and long-term complications. These include kidney damage, growth retardation and rickets in children, a series of metabolic disorders or impairment of renal function.
In the United States, the US Food and Drug Administration (FDA) has cleared ADV7103's Investigational New Drug (IND) application, allowing the initiation of the pivotal Phase III (ARENA-2) trial for the treatment of dRTA. There are currently no approved treatments for dRTA in the United States.
The study has also received a No Objection Letter (NOL) from Health Canada's Office of Clinical Trials to extend the Phase III trial in Canada.
ADV7103 is an innovative oral product with a prolonged-release formulation designed to maintain a sustained release over a 12-hour period, thus allowing for twice-a-day treatment. The product was developed as a multi-particulate formulation in 2mm granules that contains two active pharmaceutical ingredients.
Beyond dRTA Advicenne is also developing ADV7103 in a second indication, cystinuria, another rare renal condition.
ADV 7103 has received authorization from the French Health Agency (ANSM) and from the Belgian Health Authority (AFMPS) to initiate a pivotal Phase II/III clinical trial in cystinuria.
The European trial has been designed to evaluate the efficacy, safety of ADV7103 as well as assess the palatability and compliance for patients living with cystinuria. There are currently no approved treatments for cystinuria in Europe or the United States.
Mature and Balanced Pipeline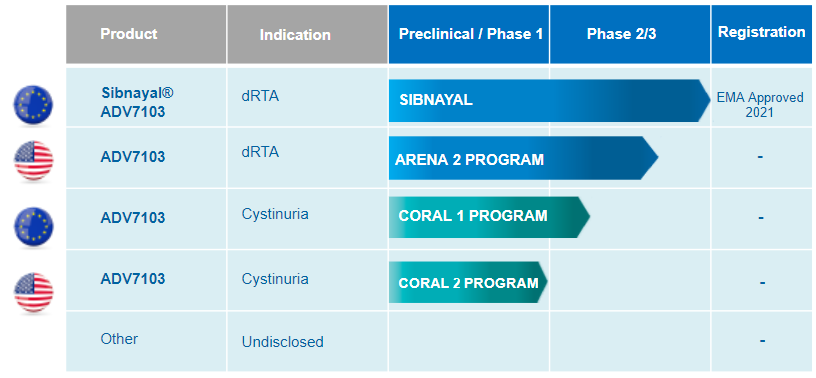 ARENA: Alkalinisation for RENal Acidosis; CORAL: Cystine – ORnithine – Arginine – Lysine (4 dibasic amino-acids for which gastro-intestinal absorption and renal reabsorption are defective in cystinuria patients